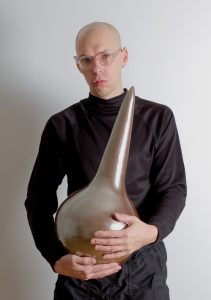 Education
The Jutland Art Arcademy 2011 – 2016
Internship, Vinyl Terror & Horror, Berlin 2014 – 2015
Upcoming Exhibitions
SOLO – OVERGADEN
SPRING19 – Kunsthal Aarhus
Solo Shows
Intruders, Duo Demona
At the abandoned wastewater treatment plant in Brande.
The Abandoned buildings Off-road projekt at the Aarhus European Culture Capital 2017
Delicate Tension
Sydhavn Station 2016
S/he, Giving, Receiving and Changing Shape
The Demo Room at Gallery Image, Aarhus 2014
TRANSFORMATIV
Gallery Hegnhøj & Blyme, Copenhagen 2014
Selected Group Shows
Into Pieces.
Sydhavn Station 2019
Allow Me To Introduce Myself.
Pro Temp / Gallery Susanne Ottesen, Copenhagen 2017
Kollektiv Udstilling
. Gallery Q, Copenhagen 2016
Graduation Show
. Kunsthal Aarhus 2016
KP14
, Kunstnernes Påskeudstilling i Kunsthal Aarhus 2014
7 fra DJK
. Charlotte Fogh Contemporary, Aarhus 2012
The Affected Body
. The Jutland Art Academy 2012
Body Images//Gender Realities
, International performnace festival, Warehouse9 2008
Performance
Things that makes me go hmmm.
Den Frie Center of Contempoary Art. Copenhagen 2017
Glassymphony & Vocal Performance, Duo Demona
Copenhagen Art Week, Copenhagen 2017
Kunsthal Aarhus, Aarhus 2016
Brandts13, Odense 2016
FAA Project Room, Odense 2016
Sensorium Sound Art Festival, Aarhus 2016
Mørke Dage, Aalborg 2015
Nocturnal Dreamer feat. Cilla Leitao
SPRING, Kunsthal Aarhus, Aarhus 2015
Chastity Armor
BarHvaViHar, Warehouse 9, Copenhagen 2014
Splab, Aarhus 2013
Kroppen ses udefra, mærkes indefra
.
Bachelor performance, The Jutland Art Academy, Aarhus 2014
Auf Eine Fingerspitze
Duo Demona debut performance. TækkerAir, Berlin 2015
Residencies
TækkerAir Berlin 2015
Teaching
Ceramics – FOF Evening School 2017-2019
Aarhus Art Academy 2013